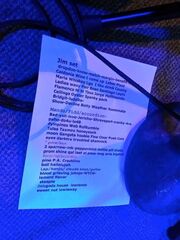 DRAFT -- photos, audio, video, and set list details still rolling in! -- DRAFT
The Gourds show

Venue:

Date:

10/27/13

Location:

301 West Riverside Drive, Austin, TX, 78704

Country:

USA

Support:

Special guest appearances by members of The Tinys (Matt Cook & Travis Garaffa), JR Roof, the Tijuana TrainWreck Horns (Mark Wilson & Tiger Anaya), Ramsay Midwood, Jeff Johnston, Rob Bernard, and Mike Stewart. There was no opening act.

special thanks:

The 700 cucurbs who packed the Threadgill's yard for "The Last Stomp" and the approximately 300 fans who watched the show live via USTREAM.
audio:
video: I Like Drinking--Grievin' N Smokin , Jorge , G&J , G&J - stage front center ,  Ustream Live Video, Highlights by Flitcraftian, Web Before You Walk Into It, Low Is The Way, I Come Up into All The Labor
Set list
01:

Mister Betty

02:

Right in the Head

03:

Nuevo Laredo (Doug Sahm)

04:

Web (before you walk into it) *

05:

Jesus Christ with Signs Following

06:

Everybody's Missing the Sun (Nils Lofgren) **

07:

My Name is Jorge

08:

Hellhounds

09:

Clear Night

10:

Hooky Junk

11:

I Like Drinking

12:

(the new way of) Grievin' & Smokin' > L.A. Woman (Jim Morrison/Robby Krieger/Ray Manzarek/John Densmore) > Promised Land (Chuck Berry) > Grievin' & Smokin'

13:

Trampled by the Sun

14:

Maria

15:

Country Love

16:

Take Me Back to Tulsa (Bob Wills/Tommy Duncan)

17:

When Wine Was Cheap ***

18:

Lower 48

19:

Catch You Going Away (Claude Bernard/Matt Cook/Travis Garaffa) ****

20:

I Ate the Haggis *****

21:

LGO *****

22:

Flavor on yer Tung > Hang Fire (Mick Jagger/Keith Richards) > I'm Waiting for the Man (Lou Reed) > Walk on the Wild Side (Lou Reed) > Flavor on yer Tung ******

23:

How Will U Shine *****

24:

Your Benefit

25:

Low is the Way

26:

Pine Island Bayou > Dear Prudence (John Lennon/Paul McCartney) > Pine Island Bayou

27:

Up On High

28:

Plaid Coat

29:

Ringing Dark & True

30:

I Come Up >

31:

All The Labor *******

32:

Magnolia

33:

El Paso

34:

All in the Pack > The End (Jim Morrison/Robby Krieger/Ray Manzarek/John Densmore) > All in the Pack

35:

Gin and Juice (Calvin Broadus, et al.) > I'm Waiting for the Man reprise(Lou Reed) > Gin and Juice ********

* with a "Lou Reed" crowd sing-along before the "Roll the glue in balls" verse
** with Matt Cook on back-up vocals
*** JR Roof introduced the band b/t When Wine Was Cheap and Lower 48
**** performed by The Tinys while Kevin, Jimmy, Keith, and Max were off stage
***** with the Tijuana TrainWreck Horns: Mark Wilson (Tenor/Bari Sax, Flute) & Tiger Anaya (Trumpet)
****** with the Tijuana TrainWreck Horns and Ramsay Midwood on guitar
******* with Jeff Johnston on bass
******** with the Tijuana TrainWreck Horns, Ramsay Midwood on guitar, Rob Bernard on guitar, and Mike Stewart on guitar and vocals